10 Popular Small Business Ideas in the Philippines for 2023
Published: Sep 15, 2023
Starting a small business in the Philippines is a great option for those who want to be their own boss. Depending on your interests and skills, you can choose between a physical store or an online platform.
If you are wondering what small business you can start with, here are 10 popular small business ideas in the Philippines you can set up and explore:
1. Sari-Sari Store Business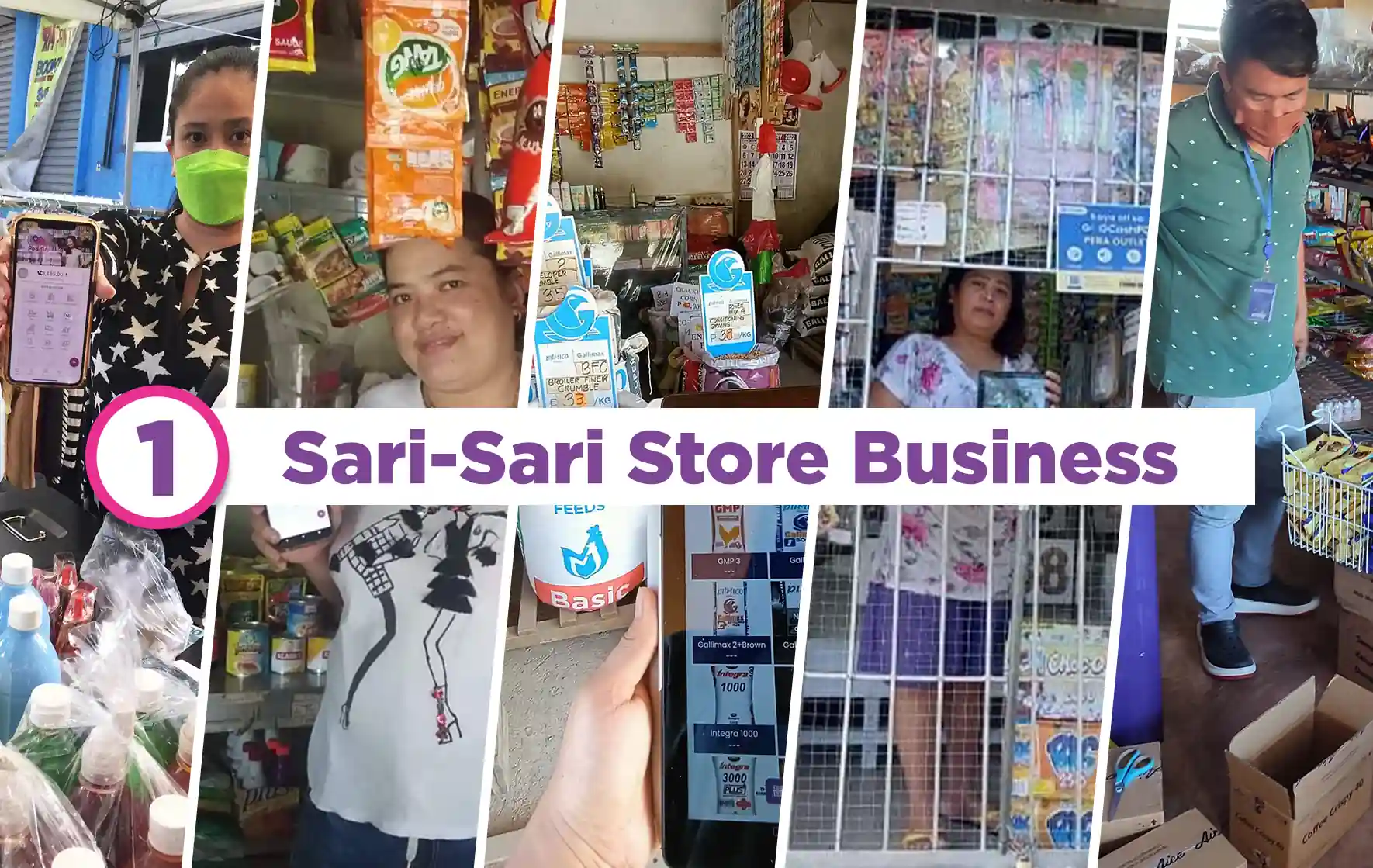 Startup Investment: PHP 10,000 - PHP 50,000
Have you ever heard of a sari-sari store? It's a little shop that you'll find in most Filipino neighborhoods. They sell all kinds of daily essentials, snacks and it is a great way to connect with many people. The best part is you don't need a ton of money to start one - typically between PHP 10,000 to PHP 50,000 will do the trick.
If you want to reach even more customers, you can set up a product list on Facebook Marketplace, Shopee or even with Peddlr and offer online ordering and home delivery. It's a great way to make a living while helping your neighbors!
2. E-loading and Game Top-Ups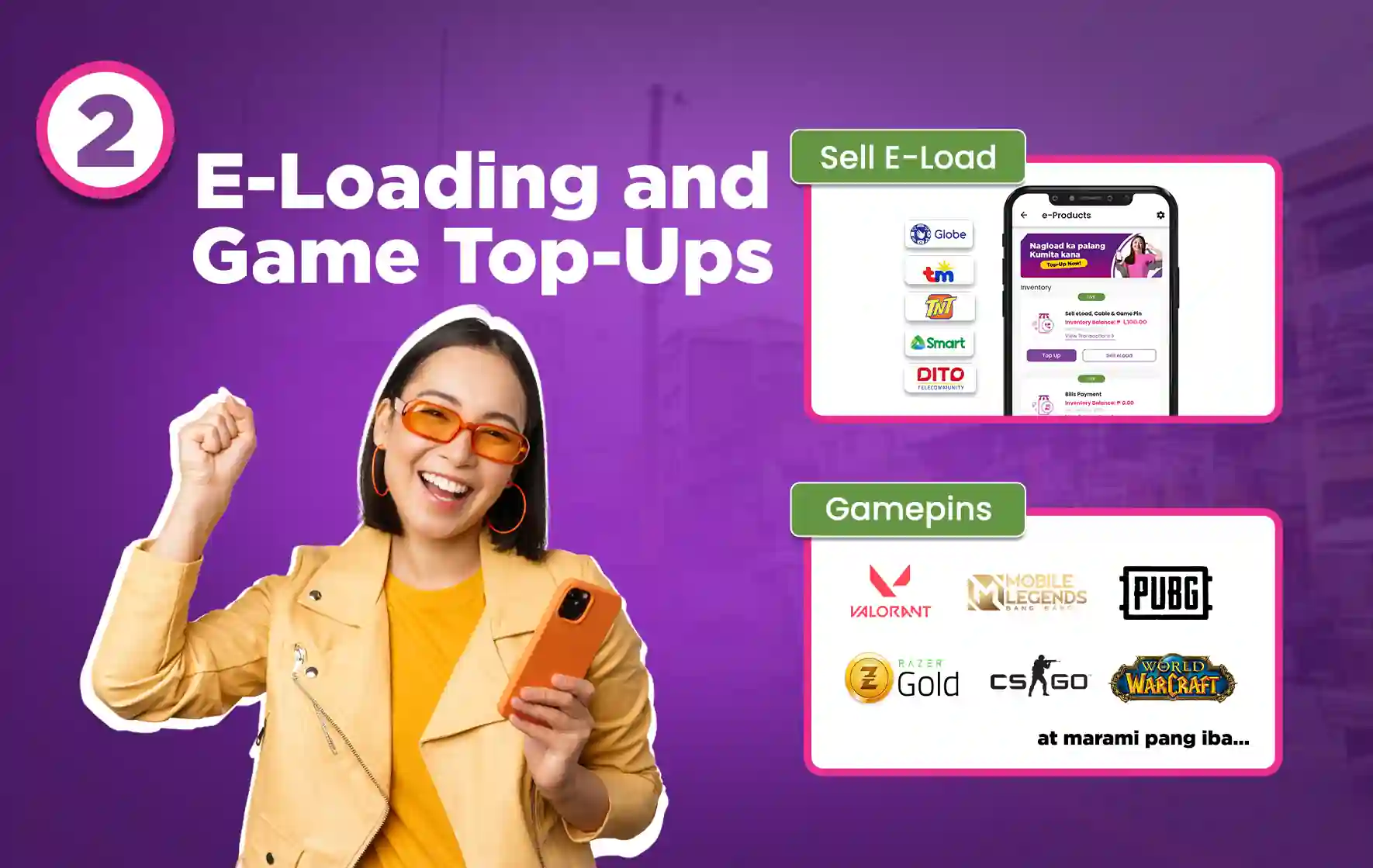 Startup Investment: PHP 5,000 - PHP 10,000
For people living in a country where mobile communication is very important, getting into the e-loading business can be a smart move. You only need an initial investment of PHP 5,000 to PHP 20,000 to purchase load credits.
By using our Peddlr app, you can earn more profit with our rebates and cashback bonuses. You can also easily cater to your customers' needs, allowing them to quickly recharge load and game top-ups so that they can continue enjoying their gaming experience.
3. Bills Payment Services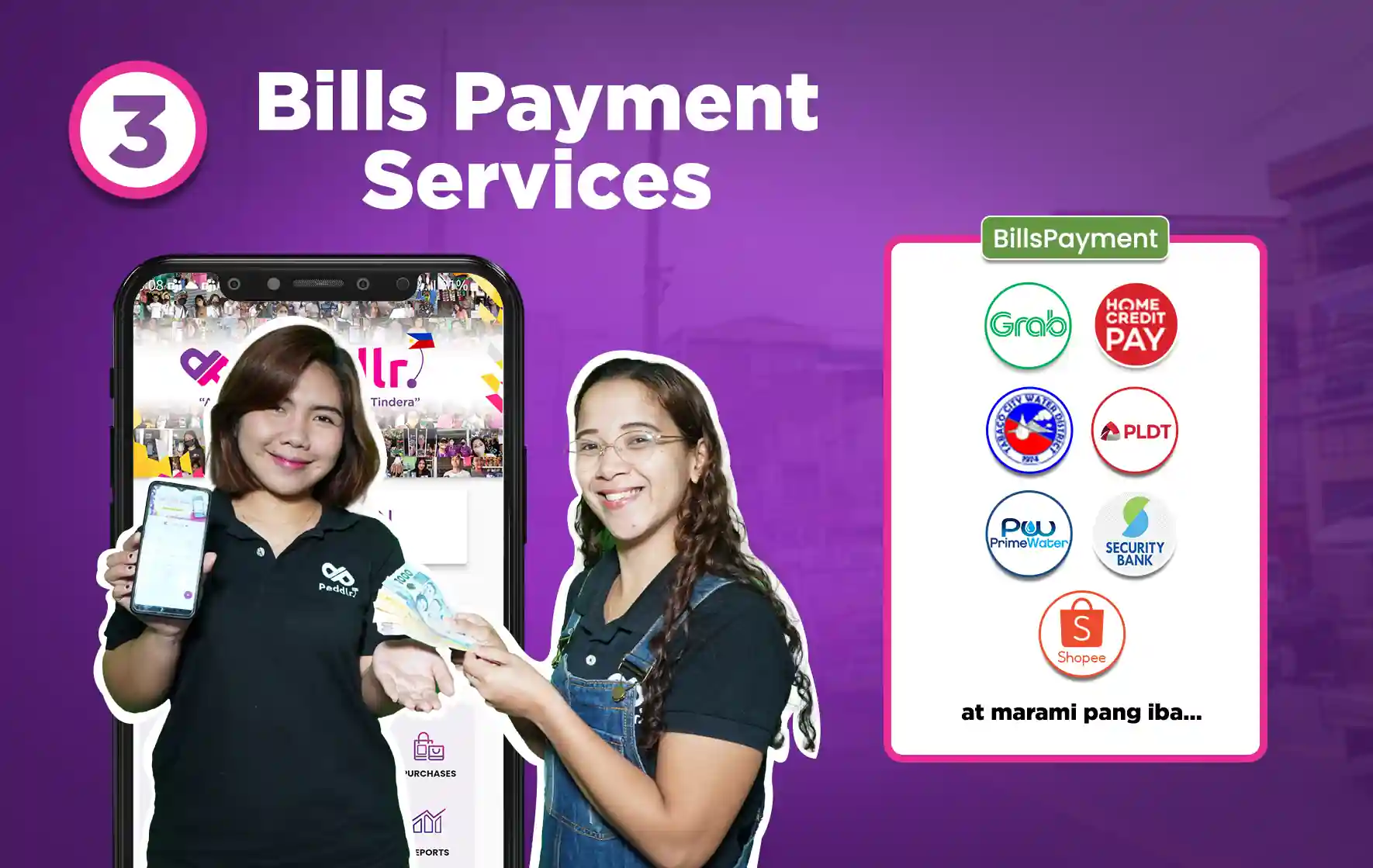 Startup Investment: PHP 5,000 - PHP 20,000
Paying bills can be a hassle, but bill payment services make it easier to settle regular bills. With just a small investment of PHP 10,000 to PHP 30,000, you can offer timely bill payment solutions to your customers.
You can even expand your services by offering online payment options through platforms like GCash, PayMaya, and Peddlr. By providing this convenience, you become an integral part of your customers' financial routines, giving them the ability to manage their obligations remotely.
4. Homemade Baking Business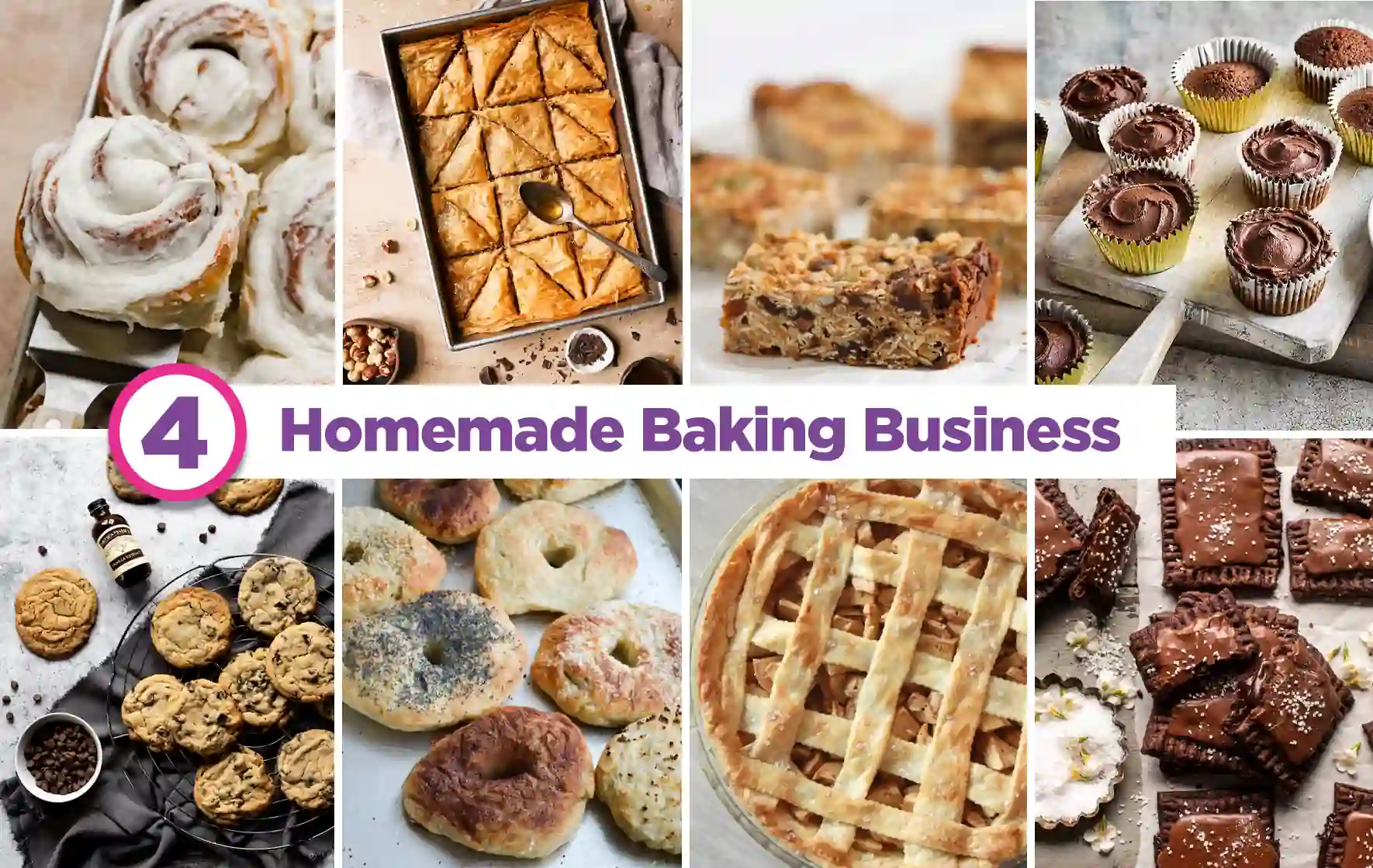 Startup Investment: PHP 5,000 - PHP 20,000
Starting a baking business from home can be both a passion and a profitable venture. With an initial investment of PHP 5,000 to PHP 20,000 for ingredients and packaging materials, you can bring the aroma of your homemade creations to customers beyond your physical location.
Creating a social media presence on Instagram and Facebook can help your homemade baking business get known in different parts of the Philippines.
5. Milk Tea Business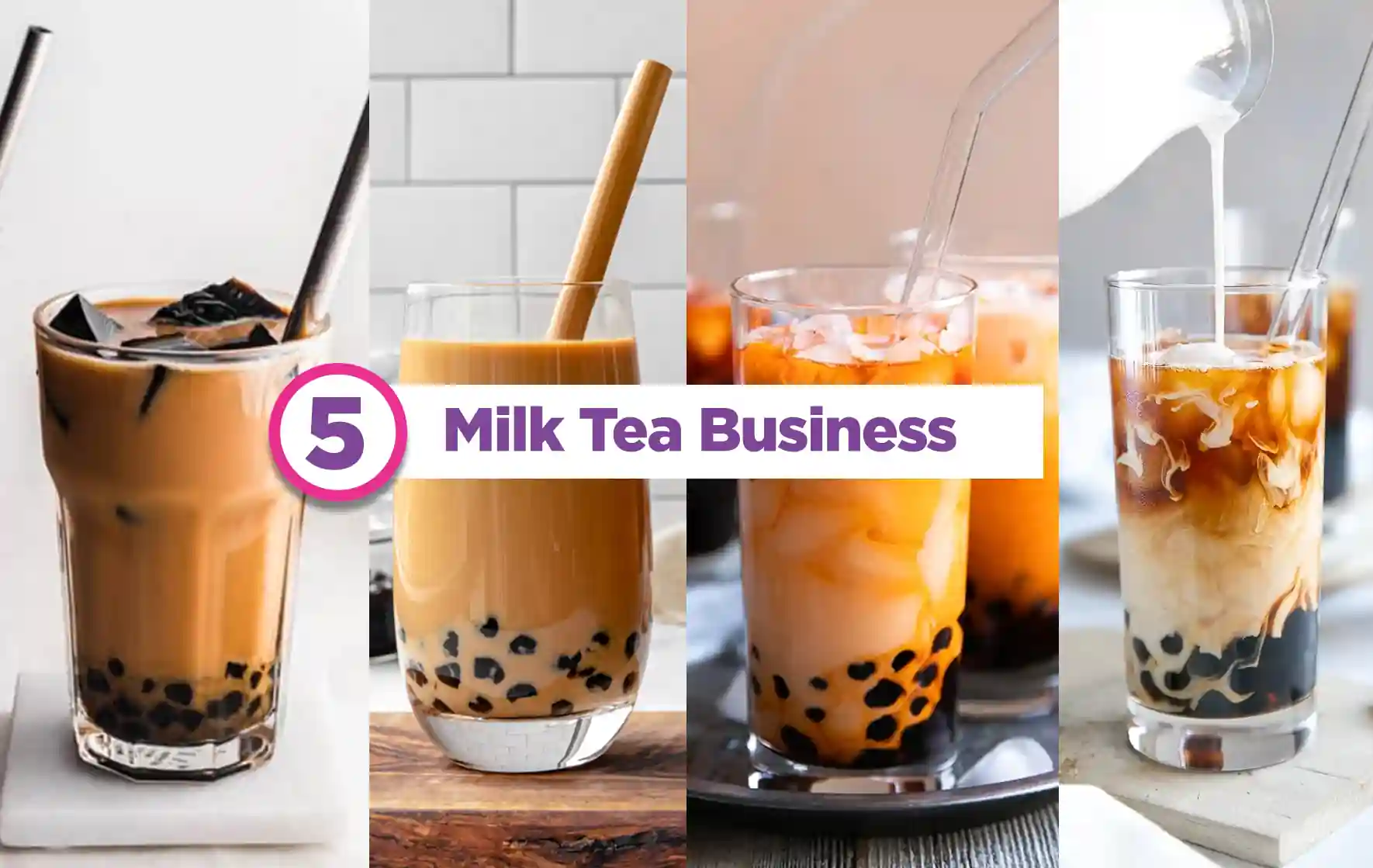 Startup Investment: PHP 5,000 - PHP 15,000
If you enjoy creating both beverages and memorable experiences, milk tea shops might be something you'd like to consider. The great thing about milk tea is that it's popular all year round. Plus, Filipinos often find it hard to resist a refreshing cup of milk tea when they need something to eat or drink.
If you want to sell more milk tea, you can use apps like GrabFood and FoodPanda to reach more customers and share your menu with them online.
6. Street Food or

Merienda

Business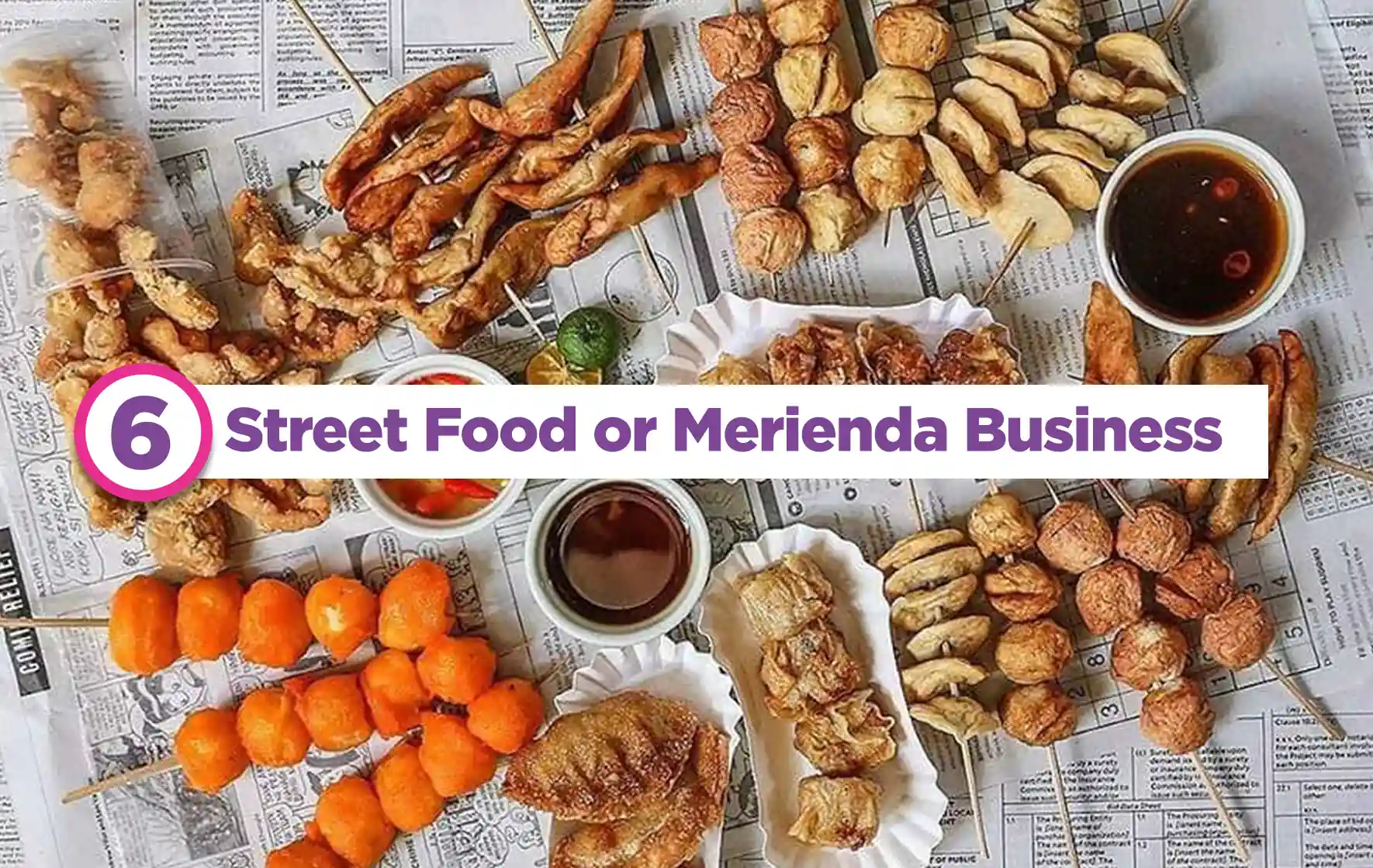 Startup Investment: PHP 5,000 - PHP 10,000
Have you ever considered starting a business that celebrates the delicious Filipino street food culture? With an investment as low as PHP 5,000 up to PHP 10,000, you can offer mouth-watering local delights that people will surely love.
You can make it super easy and convenient for your customers by combining in-store accessibility at home with online pre-ordering using social media like Facebook. You can connect with a community that shares your passion for these amazing flavors by showcasing your menu on social media.
Here are some popular options that you can consider for your street food or merienda business:
Fish Balls and Squid Balls

Kwek-kwek and Tokneneng

Barbeque

Bannana cue

Turon

Pancit Malabon or Palabok

Buko Pandan

Ginataang Bilo bilo

Maruya
7. Buy and Sell (Buy Low, Sell High)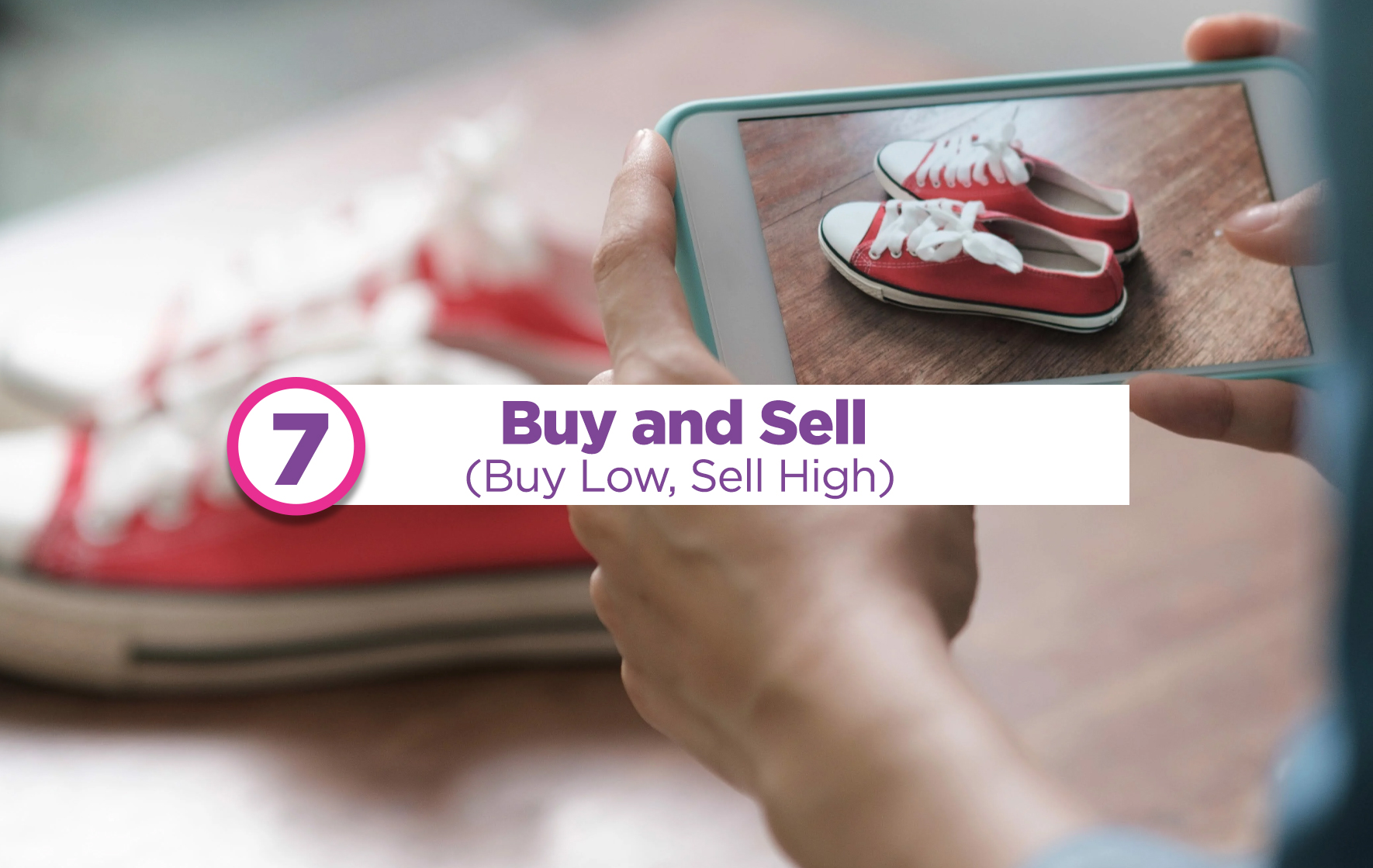 Startup Investment: PHP 5,000 - PHP 50,000
Buying and selling has been around for a long time and can be started with just a small amount of money, like PHP 5,000 to PHP 50,000. This lets you get products that you can sell for more money later.
As you get more into using the internet in the Philippines, Carousell is a go to website where you can sell things. This website make it easy for people to buy and sell stuff without meeting in person.
Here are some popular items that you can consider for your buy-and-sell business:
Gadgets and Electronics

Fashion Accessories

Clothing and Shoes

Beauty and Skincare Products

Home Decor and Furnishings

Sports Equipment

Pet Supplies

Musical Instruments
8. Ukay-Ukay Business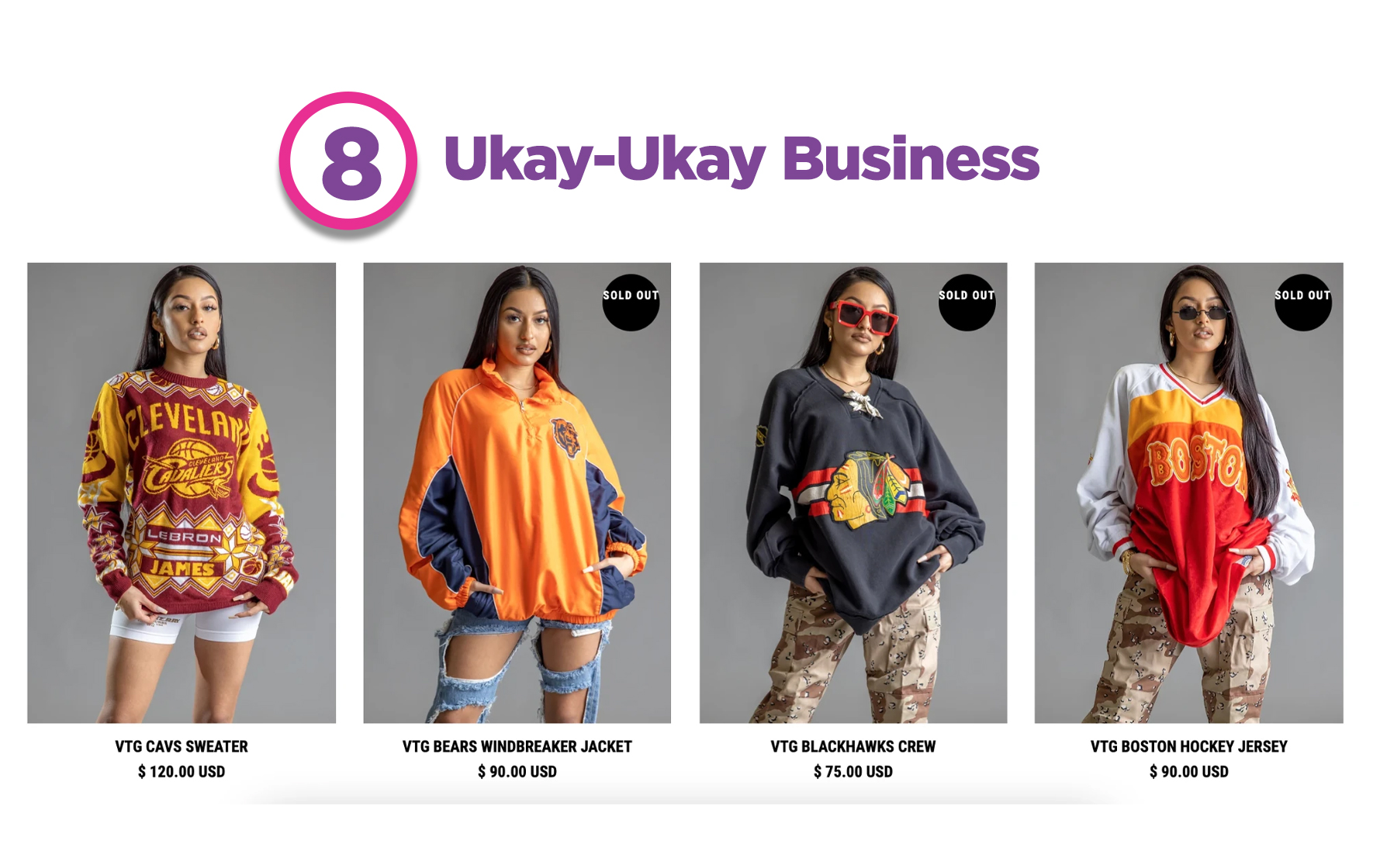 Startup Investment: PHP 10,000 - PHP 50,000
Ukay-ukay is an excellent way to shop for second-hand clothes that are still in good condition. It's good for the environment because you're not buying new clothes that might end up in landfills. Getting started can cost anywhere from PHP 10,000 to PHP 50,000, but it's worth it because you'll end up with unique clothes you won't find anywhere else.
There are several popular online platforms like Facebook, Instagram, Shoppee, Lazada and Carousell where you can showcase and sell your ukay-ukay items to more thrifters.
9. Reseller (Buy Cheap Items in Bulk, Sell High in Retail)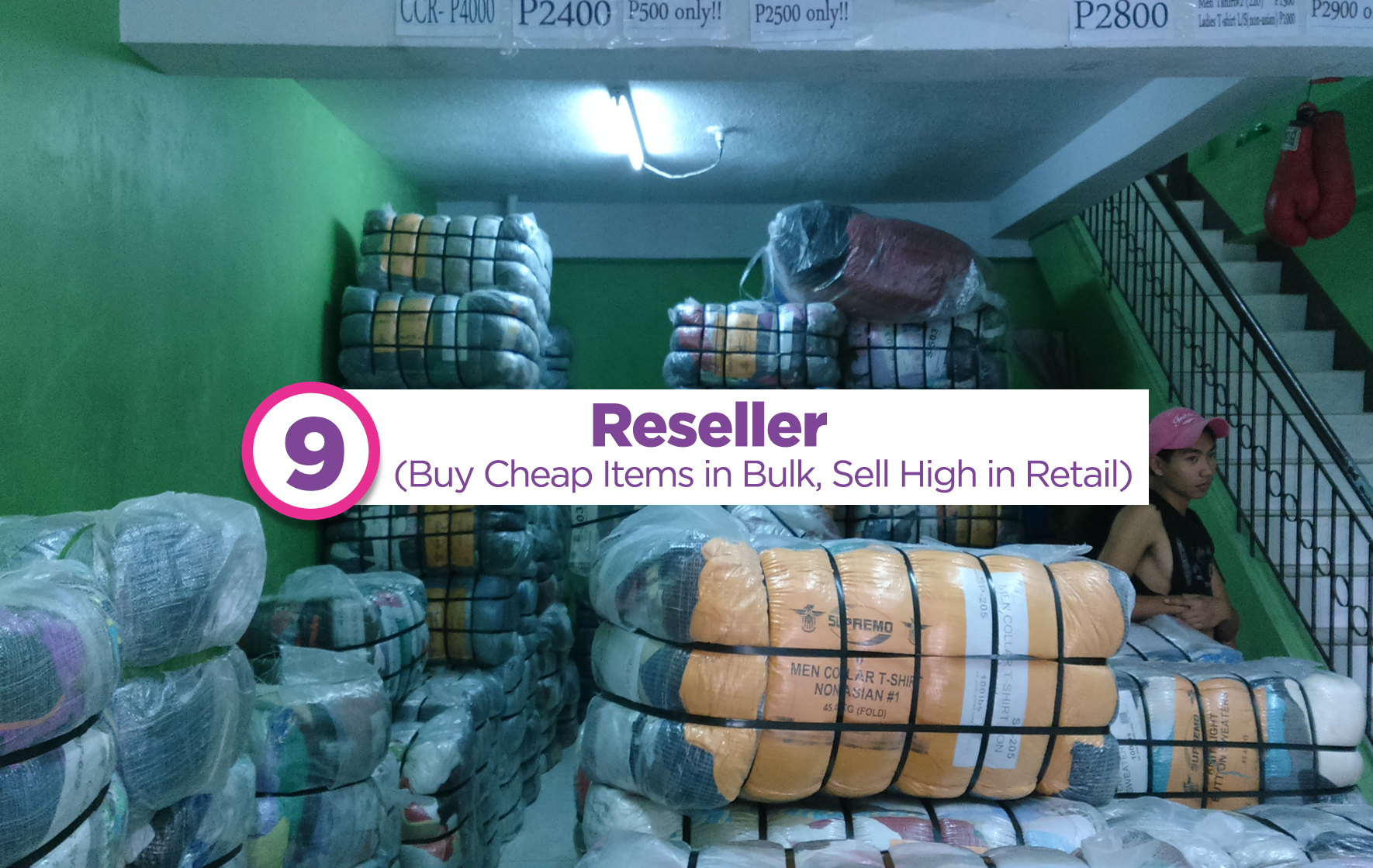 Startup Investment: PHP 5,000 - PHP 20,000
Starting a reselling business can be a great way to earn some extra income. With just a small amount of money, you can purchase items in bulk at a lower cost and then sell them for a higher price. This is a simple yet effective way to make a profit, and it's an excellent option for those who want to start a business without investing a lot of money upfront.
Social media platforms like Facebook and Instagram have become great ways to showcase your products to potential customers. You can choose items that will appeal to people looking for good deals and a wide selection.
10.

Carinderia

Business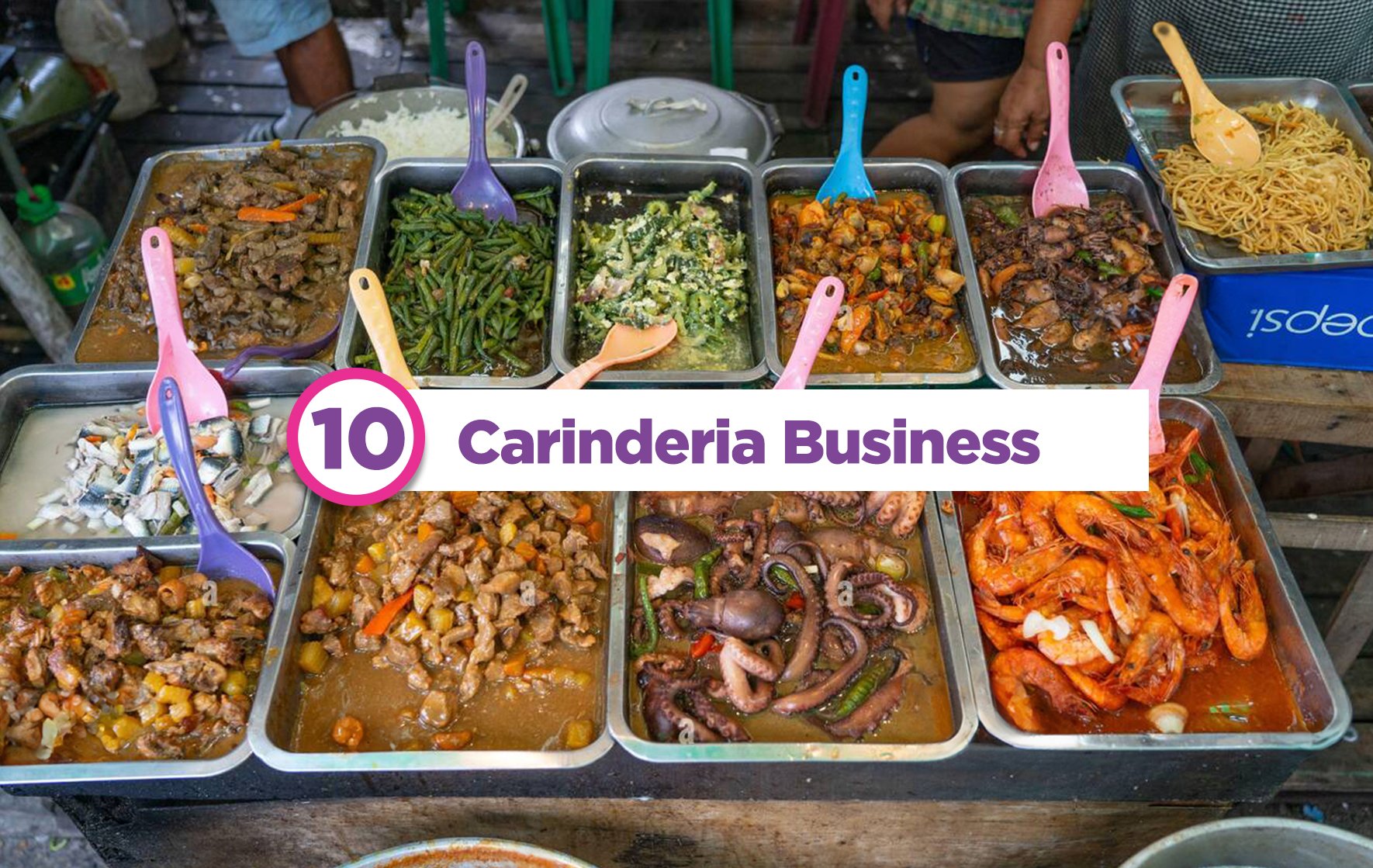 Startup Investment: PHP 5,000 - 15,000
Starting a carinderia business in your home can be a smart decision if your house is situated in a bustling area with numerous office buildings and schools nearby. You can take advantage of the foot traffic and provide a convenient and affordable option for people looking for a quick bite to eat.
You can use social media platforms like Facebook and Instagram and food delivery services like Grab Food and FoodPanda to promote your delicious Filipino dishes to more people interested in trying them.
Here are popular Filipino dishes that are well-suited for a carinderia business:
Adobo

Sinigang

Kare-Kare

Lechong Paksiw

Tinola

Mechado

Pinakbet

Ginataang Gulay
Wrapping Up:
There are numerous options that you can try to start your own small business here in the Philippines, ranging from opening a sari-sari store to baking goods at home. You can also consider selling second-hand clothes or becoming a reseller. Lastly, starting a small food business specializing in Filipino dishes is also an option.
No matter what interests you or how much money you have to start, you always have an opportunity to try.
But it is still important to know that no matter how small the business is, doing research and learning more about the business you want to try is crucial.
Understanding the difficulty of managing small business and its potential loss and profit will help you make better decisions before taking a big steps forward.
What is

Peddlr

?
Peddlr is a POS mobile application for all business owners – sari-sari stores, milk tea stands, coffee shops, Shopee and Lazada sellers and more. It's free to download, free to use, and works even without an internet connection. With Peddlr, you can easily manage and track your business performance and inventory.
Here are some of the useful features that you can access through the Peddlr app:
FREE Point-of-sale system (POS) or a mobile cashier system

FREE Credit Reminder – send SMS to your customers for free to collect credit/debts easily

FREE Inventory Manager/Tracker - take control of your product inventory

Loading and Bills Payment Services – enjoy rebates and cashback