Starting an E-loading Business in the Philippines in 2023
Published: Sep 5, 2023
Imagine having a business that doesn't need a fancy office space or a massive, upfront investment. Instead, you just need a mobile phone and you are ready to go!
Starting a business that offers e-loading services is a great opportunity in today's economy. It's accessible and affordable, which means it doesn't require a lot of money to start.
It's an open door for about anyone: students, sari-sari store owners, stay-at-home parents, or any employee looking to make money on the side. Not only is it cost-effective, but it's also easy to start.
The best part about it all is you can run this venture right from the comfort of your own home.
What is E-loading?
E-loading or electronic loading is a fancy term for topping up prepaid mobile phones with credits.
It's also a low-cost and straightforward way to earn some extra cash.
As a business, it involves purchasing prepaid cellphone loads from Smart or Globe. It can also be done through a third-party distributor like Load Central, Coins.ph, and Peddlr. You can then sell this load to customers at a profit.
Is E-loading Business Profitable in 2023?
The answer is yes.
The demand for mobile services continues to rise. People are now more reliant on prepaid mobile credits for internet access, communication, and gaming. This makes e-loading services important in the daily lives of Filipinos.
However, the amount of profit you can earn will depend on various factors. One of the most important things to consider is your location. If you're in an area where there are many people who use mobile phones, and there aren't many e-loading businesses, then you can expect to earn a lot of money.


How to Start Your E-Loading Business
in the Philippines
1. Research Your Market
Before you start your e-loading business, take the time to understand your target market.
Who are your potential customers?
What are their mobile network choices and preferences?
What are their typical spending habits when it comes to phone credits?
Performing thorough market research will help you tailor your services to meet the specific needs of your customer.


2. Choose Your Approach
There are two main methods to selling e-load:
Single-network sellers - if you want to exclusively sell load for a specific mobile network or telecommunications provider.


Multi-network sellers - if you want to sell load for multiple mobile network operators or telecommunications providers. You can use a

third-party sellers that provide loads for different networks like Coins.ph, LoadCentral, PayMaya, Peddlr, and more.
Choosing the right approach depends on your customer. If your target customers use different networks, it's better to sell load from multi-network sellers. If you'll mostly sell to Globe subscribers, for instance, being a single-network seller is ideal.


3. Become an Accredited Retailer
To officially start your business, you'll need to apply for accreditation.
To do this, contact the telecom company you plan to work with and ask about their requirements. Usually, you'll need to fill out an application form and submit necessary documentation. This includes IDs or proof of billing.
Apart from the retailer SIM card, you'll also need an initial load balance of at least 1,000.
The telecom company will offer you a local load distributor's contact details to buy the SIM and reload your wallet.
Upon approval, you'll receive a prepaid load reseller kit and agent code from the telecom firm, which includes everything you need to begin.


4. Market Your E-loading Business
Effective marketing is vital for attracting customers to your e-loading business. Use and maximize both online and offline marketing strategies.
You can start sending text and chats to your friends and family about your e-loading business.
Encourage them to share your business and share it with their networks, so that you will get more customers.
Don't forget to use social media to promote your business as well.
Consider distributing flyers in your community or create partnerships with local businesses in the area. You might also want to encourage satisfied customers to refer family and friends to your e-loading business.
Useful Apps You Can Use for Your E-loading Business
Just like any kind of business, using the right tools is important and can be expensive sometimes. The good thing is that there are many free mobile apps that you can use to help you with your e-loading business.
You can use Coins.ph, PayMaya, Load Central, Gcash and Peddlr. These apps offers e-loading services that you can use to get started.

But if you want a mobile app that let you keep track of your sales, manage your transactions, and sell load, Peddlr is perfect for you! Its a free all-in-one mobile POS app, perfect for any e-loading businesses in the Philippines.
Other Services You Can Offer In Your E-loading Business.
Bills Payment Services
In addition to e-loading, you might also want to consider offering bills payment services. This allows your customers to pay for their utility bills such as electricity, internet, and water through your service. It's an added convenience for them and can also generate extra income for your business.


Game Top Ups
As the gaming industry continues to thrive, providing game top-ups can be a good addition to your e-loading business. Games often require in-game credits or items, especially online ones. By including this service, you can connect with a group of people who really love mobile games. This can help you attract more customers and grow your business.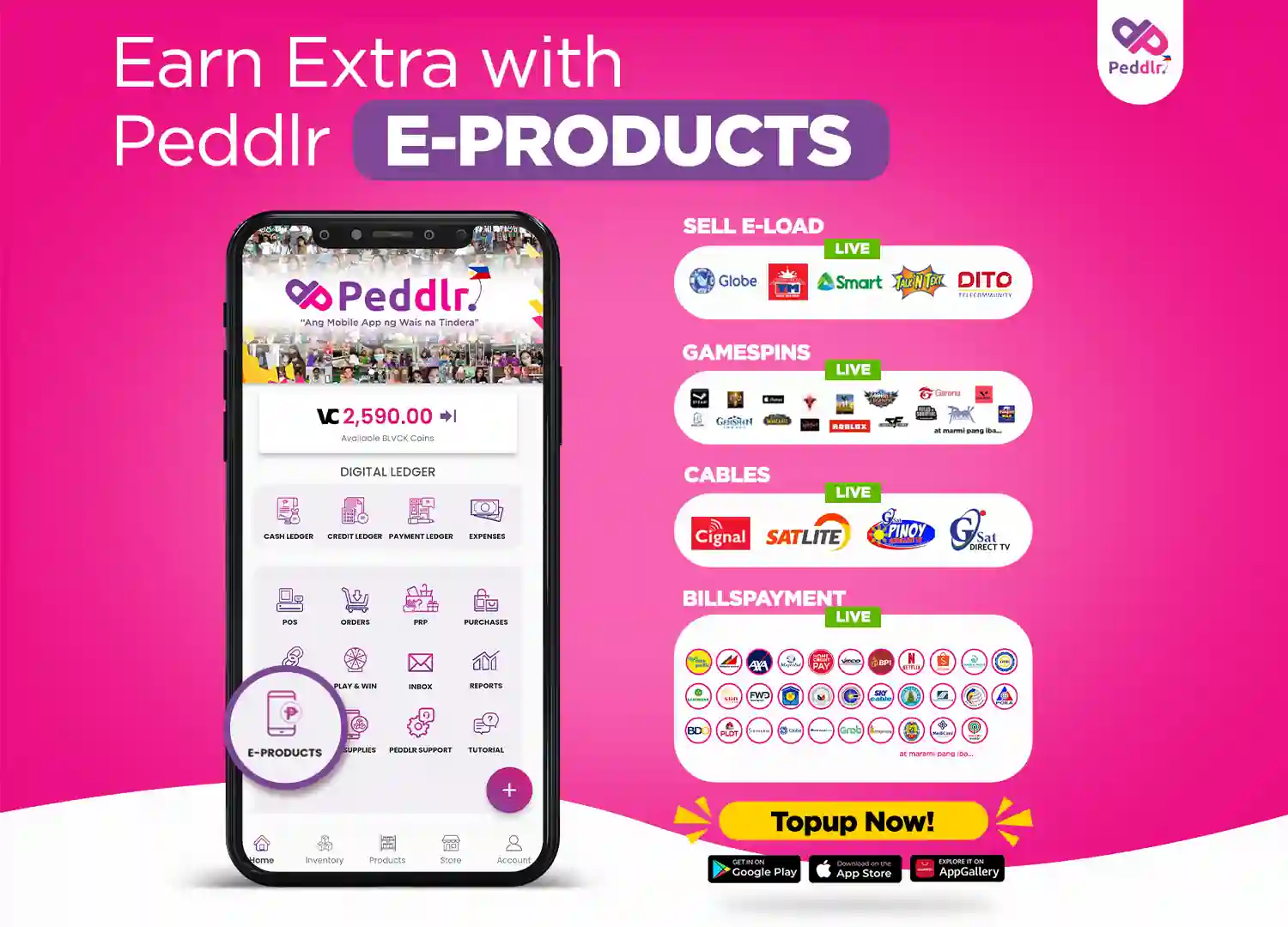 Wrapping It Up
Starting an e-loading business is an accessible and cost-effective path to entrepreneurship. The convenience of home e-loading makes it accessible to anyone looking to earn extra income.
Consider investing in essential apps that can help you with your e-loading business or try adding related services for added profits. By offering excellent service to your customer, you can make the most out of this opportunity and build a bright future for yourself and your business.
What is

Peddlr

?
Peddlr is a POS mobile application for all business owners – sari-sari stores, milk tea stands, coffee shops, Shopee and Lazada sellers and more. It's free to download, free to use, and works even without an internet connection. With Peddlr, you can easily manage and track your business performance and inventory.
Here are some of the useful features that you can access through the Peddlr app:
FREE Point-of-sale system (POS) or a mobile cashier system

FREE Credit Reminder – send SMS to your customers for free to collect credit/debts easily

FREE Inventory Manager/Tracker - take control of your product inventory

Loading and Bills Payment Services – enjoy rebates and cashback